INTRODUCTION
My question has always been, where is the rest of my PESCH family. I knew of my grandparents, PETER and PAULINA PESCH, some aunts and uncles and their children in Illinois, Uncle JIM MARLOW, Uncle ELZA PESCH and Uncle NELSON PESCH. In Indiana, Aunt GOLDA and Uncle FRED LAMBRIGHT and Uncle WAYNE PESCH, in Minnesota. What about those other aunts and uncles? How many children did they have? What are their names? Where do they live? How do they make their living? What do they look like?
How about the GREAT GRANDPARENTS? I had always heard they came from GERMANY. Where in Germany did they come from? While I was in Germany (1960-64), I saw the PESCH name on many businesses, in different towns and sections of the country. Were any of them relatives? Were any of John and Maria's children born in Germany? Where were their children born and how many? I was led to believe that Peter came to Illinois from New Orleans and that Paulina was as FRENCH lady from there also. Not until I seriously started to trace the PESCH family did I find that Peter came from Wisconsin and Paullina was born in Moultrie County, Illinois. The questions seem to go on and on without answers. I am sure we all must have had some questions about the PESCH family as you were growing up.
I had never heard my dad, FRED PESCH, or AUNT GOLDA PESCH LAMBRIGHT, mention anything about having aunts or uncles by the name of KATHERINA, MARGARETHA or JOHN PETER. While checking the records at the County Clerk's Office at the Moultrie County, Courthouse in Sullivan, Illinois it was a great surprise when I ran across those names as relatives of PETER. This was proved to be true according to the 1850 and 1860 census records of Wisconsin.
Over the past years as someone would mention the name of PESCH, I would write it down and put it with other "junk" around the house, you know like old pictures that you now wonder who they are or why you saved them and so forth. Anytime I heard the name, PESCH, from a stranger I would ask if they were related to any of the PESCH family that I knew. I have met and written to other PESCHES over the years but was never able to make any connections, until I started writing those of you that I knew or knew of and could get an address for. Except for the few of you that I knew, or had written to before, my mother, EVA HAMILTON PESCH, was the only one that I knew that had any addresses to start from.
I have found that we are a larger family than I could ever imagine. Over thirteen (13) hundred names (including spouses) and still counting. Seems like every year I find another new link. We are scattered all over this country. Your response and cooperation in supplying me information and keeping me posted of changes that take place in your families have been GREAT. This record could never have been this complete without you. As usual, there are some that have not responded as well as others have or not at all, but thanks to your reporting for them, to start with, we have their family connection anyway. Maybe not as complete as we would like, but a record.
After contacting as many "COUSINS" as I had addresses on, we approached the idea of having a PESCH FAMILY REUNION. This would let us see what each other looked like and so forth. August 1992 was the time agreed upon and so many of you came with stories and pictures. We agreed to have a REUNION every two years. The first one was held at Bethany, Illinois, the place from John Peter and Peter Pesch's started their families. As time went by and more information was received we found that at least two of their sisters started their families from Bethany also. The reunion in the year of 2002 was held at Port Washington, Wisconsin with the focus on Fredonia (about five miles from the Port), where John Baptiste and Mariea Pesch married and lived. This the locale from which was all started. This has made the digging, writing and all the work worth it all. Don't you think so?
I know all the records are not complete, but as I receive new information I will continue to up-date and bring the changes to you, someway. My one hope and desire is that when I am no longer able to do this that one of the younger generations will want to keep the descendents Of JOHN B. and MARIA in touch with each other, with FAMILY HISTORY up-dates and FAMILY REUNIONS. I am proud to be a member of this family that has you in it!!!!!
I would like to dedicate this book to the memory of those who were here before us, in honor of those that are here now and to the hope that the future "PESCH" descendents will keep in touch with each other. If nothing else is accomplished by this book, it has brought a family of cousins together which other wise would not have known each other existed.
Again thank you for making this book possible.
This information that you have supplied has been compiled by:
Forrest Dwight Pesch
HISTORICAL BACKGROUND
FOR THE LIFE OF JOHN BAPTISTE PESCH
1789 TO 1845 WAS AN IMPORTANT PERIOD OF HISTORY FOR EUROPE.
LIFE IN EUROPE T THIS TIME WAS CHARACTERIZED BY SOCIAL AND POLITICAL UPHEAVAL.
TWO (2) GREAT REVOLUTIONS HAD IMMENSE IMPACT ON THE CONTINENT.
THE FRENCH REVOLUTION NOT ONLY ABOLISHED THE MONARCH, BUT FEUDAL RIGHT OF ARISTOCRATS AND EVE THE CLERGY WERE DISCONTINUED. THE EQUALITY OF ALL FRENCHMEN WAS CONFIRMED.
HOWEVER, THESE CHANGES WERE NOT LIMITED TO FRANCE ALONE. OTHER RULERS OF EUROPE, WERE AFRAID THAT THE REVOLUTIONARY IDEAS OF THE FRENCH WOULD SPREAD TO THEIR OWN LANDS. SO MANY OF THEM TOOK UP ARMS AGAINST FRANCE.

IN SOME REGIONS BEYOND FRANCE, SUCH AS IN BELGIUM, SWITZERLAND AND THE RHINE COUNTRY, THE FEUDAL INEQUALITIES OF THE "OLD REGIME" HAD BEEN PERMANENTLY DESTROYED. WHILE OTHER NATIONS, SUCH AS GERMANY, SPAIN AND ITALY, THEY WERE SOON TO BE PUSHED ASIDE BY THE NAPOLEONIC POLICIES.
NAPOLEON ROSE TO POWER IN 1799. ENTHUSIASTICALLY BACKED BY THE FRENCH PEOPLE, NAPOLEON WENT TO WAR AGAINST ONE KING AFTER ANOTHER, AND WAS ALWAYS VICTORIOUS WITH THE EXCEPTION OF WATERLOO IN 1809. EVEN AFTER THAT DEFEAT, THE YEARS OF 1810-11 SAW NAPOLEON'S POWER AT ITS HEIGHT.
DURING THOS E YEARS OF MILITARY SUCCESS, FRENCH ARMIES ALSO OVERRAN ITALY, SPAIN, PORTUGAL, HOLLAND, SWITZERLAND AND MANY OF THE SMALLER GERMAN STATES.
FROM TIME TO TIME DURING THESE WARS, LARGE REGIONS WERE ANNEXED TO FRANCE. IN 1810 HE ANNEXED THE LANDS OF HOLLAND.
THE FRENCH REVOLUTION WAS FOLLOWED BY THE INDUSTRIAL REVOLUTION, WHICH BROUGHT GREAT CHANGES TO THE ENTIRE WORLD.
THE INDUSTRIAL REVOLUTION RAPIDLY SPREAD FROM ENGLAND TO AMERICA. HOWEVER, IT WAS SLOW TAKING HOLD ON THE CONTINENT.
IN BELGIUM, A DEFENSE POPULATION FURNISHED THE LABOR FOR THE FACTORIES. THE BELGIUM COAL MINES WERE MOST PRODUCTIVE ON THE CONTINENT. MODERN METHODS WERE ADOPTED. IN COMMERCE AND MANUFACTURE, BELGIUM PROGRESSED MORE RAPIDLY THAN HER NEIGHBORS AND WAS SECOND ONLY TO ENGLAND.
TO PROMOTE COMMERCE, BELGIUM HAD THE FIRST NATIONAL RAILROADS. THESE RAILWAYS LINKED THE TRAFFIC OF HOLLAND, FRANCE, ENGLAND AND GERMANY, AND BROUGHT PROSPERITY TO THE BELGIUMS.

DEMOCRACY AND NATIONALISM WERE THE GREAT FORCES IN EUROPE BETWEEN 1815 AND 1848.
THE CONGRESS OF VIENNA IN 1814 DECLARED THAT BELGIUM WAS TO BE ANNEXED TO HOLLAND, TO FORM A NEW KINGDOM OF THE NETHERLANDS. THERE WERE GREAT DIFFERENCES BETWEEN THE COUNTRIES IN LANGUAGE, RELIGION AND INDUSTRY. THE PEOPLE OF BELGIUM WERE DISCONTENT. THE KING OF HOLLAND APPOINTED A DUTCH OFFICIAL IN BELGIUM. THE DUTCH LANGUAGE WAS THE ONLY OFFICIAL LANGUAGE, AND BELGIUM WAS INADEQUATELY REPRESENTED IN THE NATIONAL ASSEMBLY. MEASURES WERE ADOPTED WHICH BENEFITED THE COMMERCE OF HOLLAND, BUT INJURED THE INDUSTRIES OF BELGIUM. THE CATHOLICS OF BELGIUM RESENTED THE RELIGIOUS AND EDUCATIONAL PROPOSALS OF THE DUTCH PROTESTANT. THE RACIAL, ECONOMIC AND RELIGIOUS INTERESTS OF THE TWO PEOPLES CONSTANTLY CLASHED.
IN JULY 1830, RIOTS BROKE OUT IN BELGIUM. BY SEPTEMBER A NEW NATION EMERGED AND BELGIUM SEPARATED FROM HOLLAND.
ANOTHER FACTOR TO BE CONSIDERED WAS THE GREAT BLIGHT IN 1845. IT SWEPT ACROSS EUROPE RUINING THE POTATO HARVEST. HUNGER AND POVERTY WERE RAMPANT. INTENSE SUFFERING, EVEN STARVATION, WAS THE FATE OF MILLIONS OF FACTORY WORKERS AND PEASANTS IN GERMANY, FRANCE, BELGIUM AND IRELAND.
MANY PEOPLE BEGAN TO ABANDON THEIR HOMELANDS AND BECAME IMMIGRANTS ABROAD. FROM 1845 TO 1854 THREE (3) MILLION IMMIGRANTS CAME TO AMERICA.
THUS, WE HAVE THE BACKGROUND FOR THE IMMIGRATION OF JOHN BAPTISTE PESCH IN 1846. HE FIRST ARRIVED IN NEW YORK AND THEN MOVED TO THE PORT WASHINGTON AREA OF WISCONSIN.
Below are pictures of Habergy and Udange that were sent from Germany to Pat 04-25-2008.

(1) HAGERY VILLAGE STREET.
(2) THE CHURCH IN HABERGY WHERE MATHIAS AND HENRY WERE BAPTIZED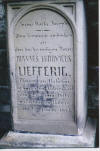 (3) RIGHT NEXT TO THE CHURCH ENTRANCE IS A TOMBSTONE WRITTEN IN GERMAN. THIS PROVES THAT GERMAN WAS SPOKEN IN HABERGY WHEN MATHIAS AND HENRY LIVED THERE.
ENGLISH TRANSLATION: FOR THE DEVOUT MEMORY OF THE REVEREND JOANNES LUDOVICUS LIEFFERIT, PASTOR IN HABERGY. BORN IN NOHRESSART JUNE 24TH 1806, DIED IN HABERGY JANUARY 1871.
YOU CAN FAINTLY RECONIZE A SWASTIKA IN DARK PAINT THAT WAS REMOVED. IT WAS PROBABLY PUT ON THE STONE AS AN INSULT DURING WWII BECAUSE IS HAS GERMAN WRITING.

(4) AN OLD CROSS NEAR THE CHURCH

(5) VIEW OF THE VILLAGE WITH A MANURE PILE IN FRONT OF THE WHITE FARM. THESE PILES WERE STILL COMMON IN THE EIFLE VILLAGES OF GERMANY DURING THE 1950'S, BUT DISAPPEARED SOON AFTER THAT. EVIDENTLY THEY ARE STILL COMMON IN THIS AREA OF BELGIUM.

(6) THE OLD MANOR HOUSE OF HABERGY. THE WOMAN WHO TOOK THESE PICTURES FELT THAT THE HOUSE DIDN'T GIVE AN IMPRESSION OF WEALTH. SHE THINKS THE AREA IS STILL QUITE POOR.

(7) THIS IS THE VIEW OF UDANGE WHEN COMING FROM HABERGY.
(8) THE CHURCH IN UDANGE WHERE JEAN BAPTISTE AND DOMINIQUE WERE BAPTIZED.

(9) A VILLAGE STREET AND A VIEW OF THE CHURCH IN UDANGE.

(10) OLD POSTCARD PICTURE OF UDANGE